This deep, dark California Merlot is a Must-Try!
Velvety-smooth, complex structure, bright fruit flavors and a nice long finish!
Pietra Santa means SACRED STONE in Italian and was named in honor of our unique soils rich in limestone and shale. Our Pietra Santa Wines are predominantly single varietal, estate-based and made to showcase the marriage between our exceptional terrain and the individual characteristics of each grape.
The winemaker, Alessio Carli firmly believes that their wines are only as good as the grapes that they grow. Special attention is paid at every level to ensure that only the finest grapes are used – from farming with environmentally sustainable methods, intensive pruning and trellising, to careful field cluster selection and hand harvesting. After harvest the grapes are fermented in small tanks and lots are kept separate and aged in hand-selected oak barrels. This allows Alessio to identify the unique characteristics in each block and vintage and artfully craft the ideal blend for bottling.
Available now at Mr. Bill's Wine Cellar!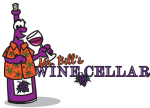 (540) 400-7771
2825 Brambleton Avenue | Roanoke, Virginia 24015