ABOUT MICHAEL…
Michael has been making wine in central Virginia since 1995.  He previously worked with two highly regarded central Virginia wineries – Jefferson Vineyards, and King Family Vineyards.  He currently works as a consultant to wineries in several states and has been involved in the startup of more  than ten wineries.  He was the winner of the Virginia Governor's Cup Wine Competition in 2004 and has been mentioned in numerous wine publications such as Saveur, Wine Spectator, Wine Enthusiast, Wine Advocate, Washingtonian, and The Washington Post.  Michael is also a partner in Maison Shaps & Roucher-Sarrazin in Meursault, France. Michael oversees all Virginia Wineworks operations and works with partner Philip Stafford on strategic planning for the winery. He holds a BPA (Brevet Professionnel Agricole) in Enology and Viticulture from Lycée Viticole de Beaune, France.  In addition, he has a B.S. in Business  Administration with a  concentration in Marketing from Skidmore College.
MICHAEL SHAPS LABEL…

Michael Shaps wines are produced in small lots from leased vineyards that are grown under the supervision of Michael Shaps and Philip Stafford. Michael has established a reputation for high quality that ranks on an 
international scale with some of the best wines in the world.  For the past ten vintages Michael has created wines with careful attention to the details of fine wine production.  The wines are produced in a traditional old-world style.  The whites focus on varietal intensity and the retention of natural acidity.  The reds are highly extracted and crafted to be age worthy and require cellaring.
 Michael strongly believes in choosing grape varieties that represent the potential of Virginia viticulture.  Michael's wines prove that Virginia can produce wines that compete head to head with some of the finest wines from the best regions in the wine world.
In addition to wining the prestigious Governor's Cup wine competition, Michael Shaps wines have earned gold medals in several competitions and have been written up in publications such as Saveur, Wine Spectator, Wine Advocate, Washingtonian, The Washington Post and many others.
WINEWORKS…

Virginia Wineworks wines have been created to meet the need for value-oriented wines.  We realized the most ideal and cost effective packaging are the bag in boxes.  These  have long been used in Italy and France with great success.  We are the first Virginia Winery to produce These wines are made from 100% Virginia grapes.  We work with quality grape growers throughout the state to find the best possible fruit to make fun, approachable wines.  We work to create wines that maintain high standards of quality at reasonable prices.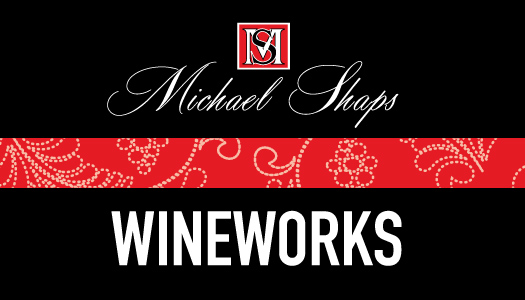 Please join us on Friday, April 18 (5-7p) for a special tasting and
Meet The Winemaker with Michael Shaps!