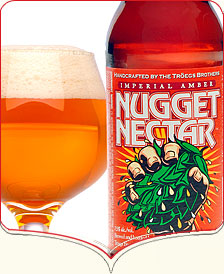 Alcohol by Volume: 7.5%
Hop Bitterness (IBU's): 93ish
Color (SRM): Straw / Orange
Availability: Seasonal (February-March)
Malts: Pilsner, Vienna, Munich
Hops: Nugget, Warrior, Tomahawk, Simcoe, Palisade
HopBack Hops: Nugget
Yeast: Ale
TASTING NOTES
Squeeze those hops for all they're worth and prepare to pucker up! Nugget Nectar Ale will take hopheads to nirvana with a heady collection of Nugget, Warrior and Tomahawk hops. Starting with the same base ingredients of our flagship HopBack Amber Ale, Nugget Nectar intensifies the malt and hop flavors to create an explosive hop experience.
FOOD COMPLIMENTS
Cheese (Sharp, Blue, and Cheddar); Meat (Beef and Poultry)
Serving Suggestions:
Temp: 45-50° F  Glassware:  Pint Glass
Try a 6pk today at Mr. Bill's… While Supplies Last!
Cheers,
Mr. Bill